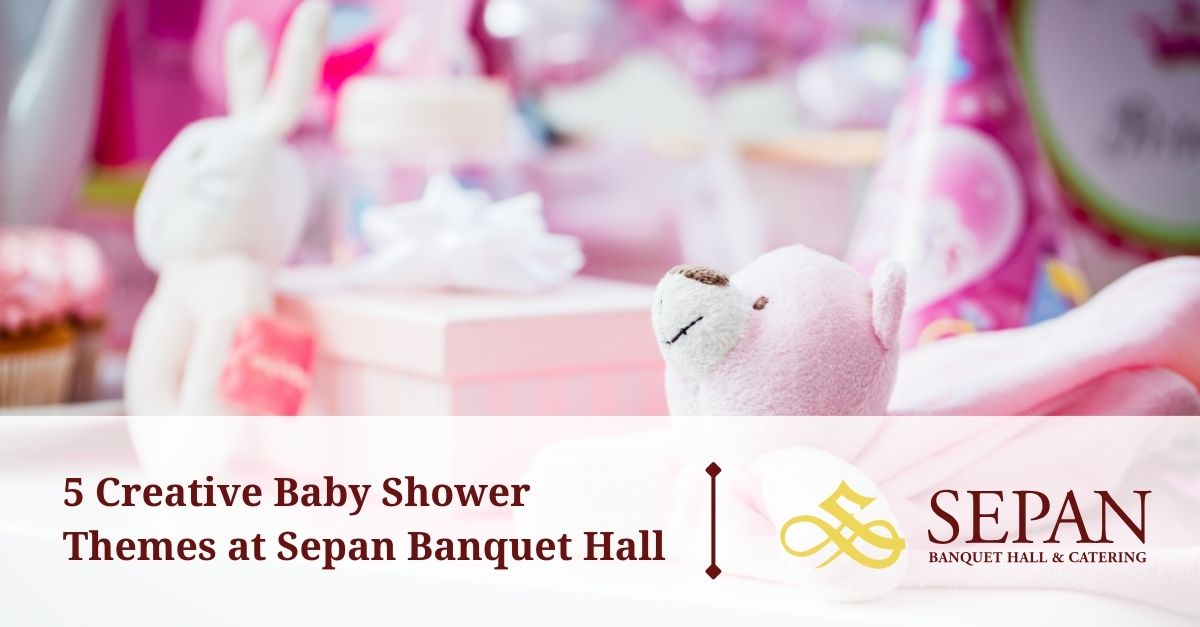 Welcoming a new life into the world is a joyous occasion filled with love, excitement, and anticipation. It's a time when family and friends come together to celebrate and shower the expectant parents with support and good wishes. And what better way to commemorate this special milestone than with a baby shower that's as unique and memorable as the little one on the way? Sepan Banquet Hall, nestled in the heart of Los Angeles, provides the perfect backdrop for such a celebration, offering elegance, versatility, and a warm, welcoming atmosphere.
At Sepan Banquet Hall, we understand the importance of this rite of passage and are dedicated to helping you create an event that reflects the joy and beauty of the occasion. Whether you're envisioning a traditional gathering or something a bit more outside the box, our venue is equipped to bring your vision to life. In the following blog, we'll explore five creative and delightful baby shower themes that are sure to leave a lasting impression on all your guests.
Elegant Garden Party (A Delicate-Style Celebration)
Transform Sepan Banquet Hall into a lush, enchanting garden for a baby shower that celebrates the beauty of new beginnings. With its spacious interior and elegant design, Sepan provides the perfect canvas for a garden-themed celebration that is both sophisticated and inviting.
Envision the space filled with an abundance of flowers, delicate fairy lights, and rustic garden decor, creating a tranquil and beautiful setting for your celebration. Tables can be adorned with floral centerpieces, vintage lace tablecloths, and charming garden-themed place settings.
For activities, consider a flower arranging station where guests can create their own bouquets or a "Wishes for Baby" station with elegant cards for guests to write their heartfelt messages. The menu can feature light, garden-inspired fare such as tea sandwiches, Fruit Platters, and floral-infused beverages.
Whimsical Woodland Theme (A Nature-Inspired Celebration)
Step into a magical forest setting with our Whimsical Woodland theme, where the beauty of nature comes to life within the elegant walls of Sepan Banquet Hall. Picture delicate fairy lights twinkling above, lush greenery adorning the tables, and charming woodland creature decorations creating a playful and enchanting atmosphere.
Encourage your guests to embrace the theme with interactive games like "Name That Animal" or a crafting station where they can create their own woodland creature masks. As for the menu, think rustic and hearty, with options like mini quiches, fruit and cheese platters, and a selection of teas and lemonades. Sepan Banquet Hall is the ideal setting for this nature-inspired celebration, providing a canvas that can be transformed to suit your wildest woodland dreams.
Sweet as Honey (A Buzz-Worthy Celebration)
Celebrate the impending arrival of your little one with a theme that's as sweet as honey. Sepan Banquet Hall provides the perfect setting for a "Bees and Honey" themed baby shower, where the warmth and sweetness of the occasion can truly shine. Picture the space adorned with bee and honeycomb decorations, vibrant yellow flowers, and playful bee-themed games and activities.
Treat your guests to a selection of honey-inspired snacks and refreshments, such as honey-drizzled fruit skewers, mini honey jars as favors, and a signature honey lemonade drink. The versatile space at Sepan Banquet Hall allows for a seamless integration of this charming theme, ensuring that every detail is perfectly aligned with the celebratory mood of the day.
Storybook Fantasy (A Magical Celebration)
Ignite the imaginations of your guests with a Storybook Fantasy baby shower at Sepan Banquet Hall. Choose a beloved children's book or fairy tale as the theme, and watch as our venue transforms into a storybook come to life. From whimsical decorations and themed activities to a menu that reflects the chosen story, every element of your celebration will be steeped in magic and wonder.
The flexibility and elegance of Sepan Banquet Hall as well as the commitment of our entire team make it the ideal setting for a celebration that transcends the ordinary and transports your guests into a world of imagination and delight. For example, just imagine tables adorned with storybook quotes, centerpieces inspired by iconic scenes, and a reading nook where guests can share their favorite childhood stories.
DIY Craft Party (A Creative Celebration)
Unleash the creativity of your guests with a DIY Craft Party baby shower at Sepan Banquet Hall. Our spacious and flexible venue provides ample room for crafting stations, where guests can create their own unique keepsakes and gifts for the little one. From onesie decorating to creating custom nursery art, the possibilities are endless.
In addition to the crafting fun, you can offer a menu of light bites and refreshments, creating a relaxed and enjoyable atmosphere that encourages creativity and connection. Sepan Banquet Hall is the perfect setting for this hands-on celebration, combining elegance with practicality to ensure a memorable and creative experience for all.
Celebrating New Beginnings at Sepan Banquet Hall
When it comes to celebrating the arrival of a new life, the venue you choose plays a crucial role in setting the tone and atmosphere of the event. Sepan Banquet Hall stands out as a premier destination, offering the versatility, elegance, and attentive service needed to bring any baby shower theme to life. Whether you're drawn to the whimsy of a woodland setting, the sweetness of a honey-themed celebration, the magic of a storybook fantasy, the glamor of a garden party, or the creativity of a DIY craft party, Sepan Banquet Hall provides the perfect backdrop for an unforgettable celebration.
At Sepan Banquet Hall, we take pride in our ability to adapt to the unique needs and visions of our clients, ensuring that every baby shower we host is a bespoke experience filled with joy, love, and unforgettable moments. Choose Sepan for your baby shower, and let us help you celebrate this momentous occasion in style and splendor.