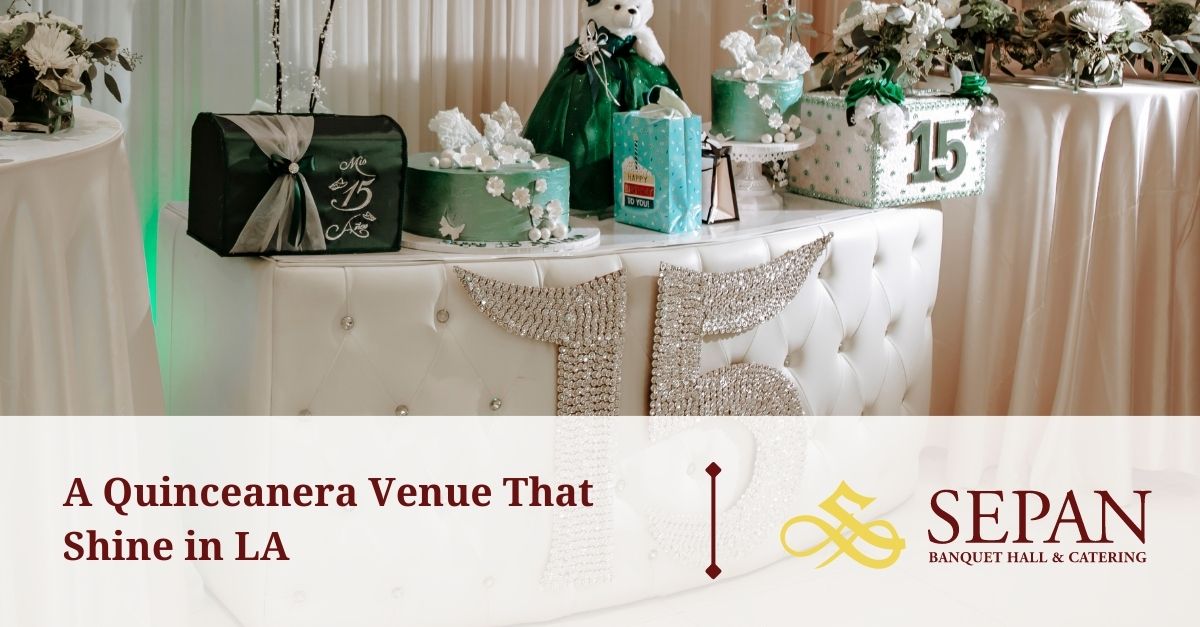 Ah, Los Angeles, where dreams come true and moments become memories under its famous bright skies. There's no place like it, especially when it's time to enjoy the magical trip from girlhood to womanhood: the Quinceanera. LA is the best place for such a big party because it has a mix of urban style, Latino warmth, and the best quinceanera venues. But we all know that where you celebrate isn't as important as how you celebrate.
Now, how do you find the right place among all the quinceanera venues in LA? There you'll find the real magic. And it all starts with finding the right location that matches the beauty and importance of the day.
The Importance of Choosing the Right Venue
The Quinceanera isn't just a party; it's a way of saying goodbye to childhood. It's a day for families to get together, respect traditions, and dream as big as the California sun. And like any big party, the background, or scenery, is a very important part of making the scene.
Now, if you've ever tried to find a place for a quinceanera in Los Angeles, you know it's like looking for a needle in a haystack. Not because there aren't enough choices, but because there are too many! Even though a lot of people may look the part, not all of them can play it. That's why it's important to choose a place that fits the mood of the Quinceaera and has the right mix of tradition, room, and modern amenities.
The Sepan Banquet Hall Is A Great Example Of How Tradition, Elegance, And Modernity Can Work Well Together
Enter Sepan Banquet Hall. This gem is in the heart of LA and has everything you could want as far as quinceanera venues and banquet halls go. It's more than just a place to go. Sepan has been in business for 15 years and has hosted many Quinceaeras. During that time, it has seen many young girls turn into young women under its elegant roof, making each party special and memorable.
Sepan Banquet Hall is an oasis of beauty and elegance in the middle of LA's busy streets. It is a mix of traditional and modern luxury. Its newly remodeled furnishings scream sophistication, but what really sets it apart is the spark it gives off. It honors the Quinceanera's long-standing tradition while adding a bit of modernity to make it relevant to young women today.
Things About Sepan That Make It The Best Choice
Now, Sepan's heart and soul are certainly charming, but its standout features really set it apart from other quinceanera venues in LA.
The dance floor is big, beautiful, and ready for those unforgettable dances. This dance floor has seen a lot of happy times, from the usual waltz with Dad to the fun dance-offs with friends. Sepan's large hall can host up to 300 guests, while the smaller hall can host up to 150 guests, making it ideal for gatherings of varying sizes. Both venues include luxurious design, including high ceilings, stages, sophisticated lighting, and more.
Then there's also the food. Mmm, the food! Sepan's dining is a treat for the taste buds, with food from the Mediterranean to Mexico. And the best part? It's environmentally conscious. Yep, you heard it right. You can have fun without feeling bad about hurting our beautiful world.
What really makes Sepan stand out is the people who are part of it. The staff isn't just knowledgeable; they care about what they do. They take the time to get to know you and understand what you want. Our entire team and staff will go above and beyond to make your idea come to life. Each and every time.
Making the Transition to Womanhood Memorable with Sepan Banquet Hall
When you turn 15, you start a trip full of dreams, hopes, and goals. It connects the past with the future. And, like any important event, it should happen in a place that fits its value. In LA, there are a lot of quinceanera venues, but Sepan Banquet Hall stands out, not only as a place to hold your party but also as a partner in it. A partner who will make sure your Quinceaera is magical.
So, if you're looking for the right setting for this big event, remember that Sepan isn't just a place to hold it; it's where dreams come true. Get in touch with us if you're in need of professional catering services, a price estimate, or would like to schedule a tour of our stunning venue to see for yourself why we're the go-to location for elegant gatherings such as wedding receptions, corporate functions, and other social gatherings.
Here's to dancing under the stars of Los Angeles, honoring the past, and moving confidently into the future!