Your special event has to be exactly that: special. A banquet hall like the one we offer has everything that you might need for an important, fun event. We've held enormous weddings, intimate private parties, quinceaneras, corporate events and everything in between. Our halls were designed to provide you and your guests with amenities that can meet your every whim. For a time you'll never forget and memories that will last a lifetime, we're taking appointments right now.
More than a Banquet Hall
We have more than one tremendous hall; we actually have three different halls from which to choose from. Two of them hold 150 people, while the main hall holds 300. For when you have a truly massive event, we can combine them to make hall appropriate for your banquet. Of course, when we say "hall," each of these is much more than that: top-notch stages, the most elegant lighting, high ceiling, and private entrances as well. When you come here, you can truly make your hall your own.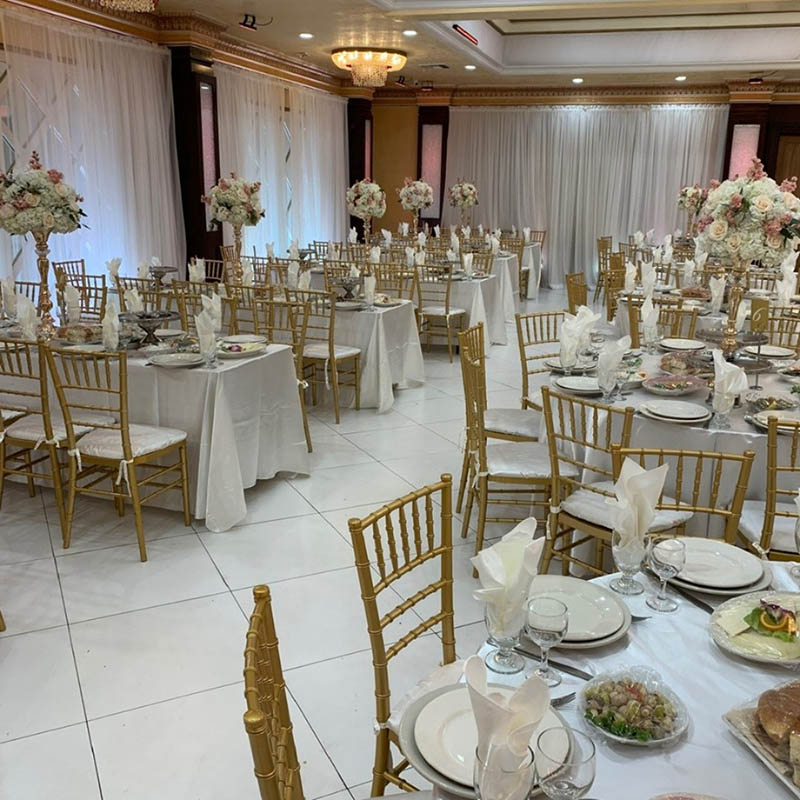 Catering: Fit for a Feast  
So many of the best gatherings in life involve food. We understand how important the right food is to your even, which is why our catering offers an array of gourmet dishes. Mediterranean, Mexican, and other international cuisine options can be specifically crafted for your event. At every step of the way, our cuisine will meet your party's needs. With more than twenty different appetizers available, the meal starts off right. They merely set the table for the delicious main course. When you schedule your event with us, we'll sit down with you and determine the best food for your event.  It's also important to note that we do everything we can to make our catering eco-friendly as well. You can make memories that last while helping the environment to last, too.
Experienced Staff
We've been a part of peoples' special events for more than fifteen years. Now, we can put that experience to work for you. Our staff has been specially trained on special event catering. That way, each member of our team is equipped to offer you impeccable service. We know that when you have a special occasion, the last thing you want to do is worry about, well, anything. That's why on the day of your event, our staff can handle everything: the set-up, the service, the eventual clean-up, and more. Whether you have 120 guests, 500, or any number in between, we can make your once in a lifetime event everything it should be.
Easy to Get to, Hard to Forget
We know how difficult it can be to travel through the traffic of the city. Our halls are located right in the center of Los Angeles. As of this writing, our halls have been recently remodeled, so they're more ready than ever to host your event. When a special occasion arises, the kind of event for which only the best will do, book it here by calling (323) 661-7501.