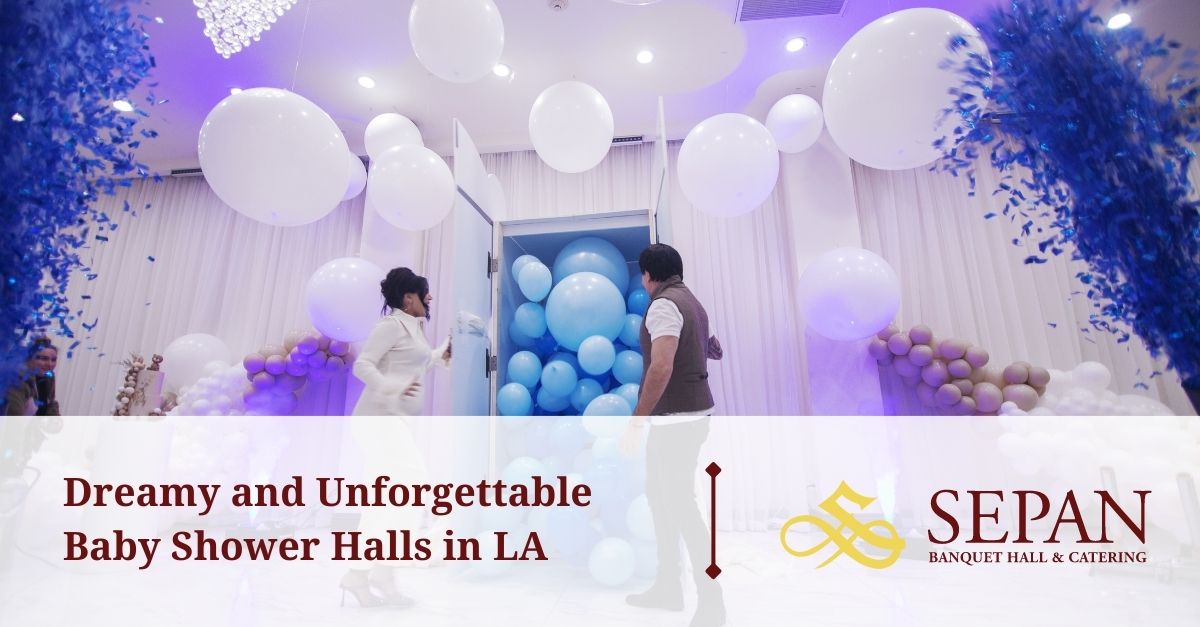 People often call Los Angeles the city of dreams, but it is also a place where people can start over. Every time the sun rises over its famous skyline, it tells stories of hope, ambitions, and life-changing moments. Among these stories are the whispered hopes of parents-to-be who are welcoming a new child and can't wait for them to come. This incredible journey, which was marked with a baby shower, is a sign of love, hope, and the future. In the huge city of Los Angeles, with its busy life, baby shower halls, and timeless appeal, these kinds of times have a special meaning.
How Los Angeles Gives Baby Showers A Unique Vibe And Flavor
Los Angeles is a strange mix of old-fashioned charm and busy city life. Every lane tells a story from the past, while the tall buildings point to the future. This unique vibe gives events in the city a special touch. When you're thinking about Los Angeles and Sepan Banquet Hall, one thing that you can be sure of is that baby showers are more than just colorful decorations and gifts; they're a chance to learn about the culture while creating everlasting memories.
Every part of Los Angeles tells a story, from the crashing waves of the Pacific to the paintings of Downtown. This makes baby showers not just an event but a story to be told again and again. Imagine the golden Californian sun shining in through elegant windows and filling the room with a warm glow as the sound of soft laughter and drinks clinking together creates music you'll never forget. This is how people in LA greet a new life.
Sepan Banquet Hall Is The Perfect Mix Of Comfort, Style, And Modern Amenities.
In the middle of this busy city is a place where dreams and memories can come true. When you open the doors of our halls, you'll find rooms that look like they came straight out of a fairy tale: they're beautiful, soft, and very warm and inviting. Every part of Sepan, from its large modern lights to the detailed traditional carvings on its walls, is made to create a luxurious and comfortable atmosphere.
But what really makes Sepan Banquet Hall stand out from the other baby shower halls is that our team works hard to make each event unique. We have the idea that it is not just about hiring or renting a space; it's about being part of a family that is just as excited about your special day as you are. Here, every event is different, and every party shows what the people who come through the doors want and hope for.
Drawing Parallels Between the Grandeur of LA and the Intimacy of Sepan
With its long streets and long history of culture and movies, Los Angeles is a tall example of grandeur and a testament to culture. Yet, within its expansive heart are nooks and crannies that ooze intimacy. This duality is shown by the Sepan Banquet Hall. While the magnificent architecture of our halls and opulent interiors are reminiscent of LA's grandiosity, the attention to detail and personalized touch offers an intimate experience, making it the venue of choice for those in the know. The newly renovated and stylish décor of the 15-year-old Sepan Banquet Hall and Catering is a reflection of the venue's reputation for elegance and quality.
Located right in the heart of the city, It attracts soon-to-be parents and their loved ones from all parts of the city, offering an event that is at once grand and intimate. When you think about baby shower halls, think of Sepan. Not only is it close, but it also offers an experience that fits the LA vibe: it will be lively, unforgettable, and very moving.
Sepan Banquet Hall Is A Great Way To Celebrate A New Life.
Getting a fresh start, a fresh beginning in a city like Los Angeles, which is always bustling with activity, is fantastic. When celebrating the arrival of a new life, nothing but the finest and most professional will do. Rest assured, with our help, a baby shower in Los Angeles can turn into so much more than a celebration. We understand the importance of the baby shower as a rite of passage, a custom that has been passed down through the ages and is now being incorporated into the city's contemporary narratives.
As the City of Angels opens its arms wide, Sepan Banquet Hall stands at its center, ready to host these beautiful stories. The happy, the sad, the hopeful, and the funny all live through the baby shower halls and many other places. As you start this beautiful trip, let Sepan be the surface on which you paint your dreams. It should be colorful and full of life, just like Los Angeles.