There are days in your life unlike any other, days that will never come again. Your wedding. Your engagement. A big anniversary. A milestone birthday. Your daughter's quinceanera. Those are just a few of the events that we carry with us every day if we're lucky. There are more. When you have an event that is truly once in a lifetime, then you need a venue that can meet the moment. Our banquet halls make for standout among wedding, party and quinceanera venues.
Our Great Quinceanera Venues
For a family celebration that marks the transition from one stage of life to another, you need somewhere that can fit the entire family. Our three halls can absolutely do that. By that same token, you also want a location where the entire family can talk to each other, too. That's why we have halls that seat 150 folks in addition to our 300 person hall. Intimate or large, private or public, we can help you to put together an evening that you and your daughter will cherish forever.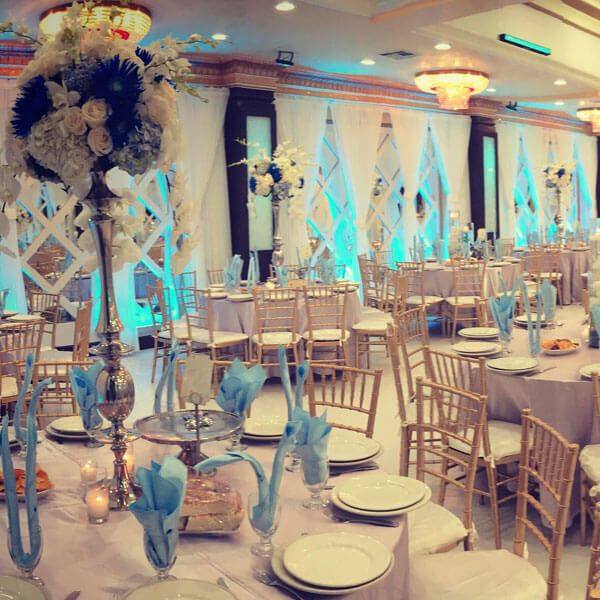 Weddings
One thing's for sure when two souls combine in matrimony: the food has to be good. At our banquet hall, we offer ten appetizers as well as two main courses with two sides. Beyond that, we have everything to make your wedding truly your own. Napkins and tablecloths are available in all colors so that you coordinate your special day how you want it to be. We even have a complimentary cake cutting service, as it's one more way to help your wedding go exactly how you would like.
All Kinds of Special Days
Of course, you don't have to have a once in a lifetime experience to utilize our banquet halls. We've had plenty of bosses and CEOs who are looking for the right way to reward or even motivate their employees. At our banquet halls, we believe a celebration should truly be a celebration: something to celebrate. Instead of sitting in a bar, or going to a restaurant, our elegant banquet halls let your family; friends and guests know how much they mean to you. Our professional staff knows how to treat your people right.
Convenient Venue Tailored to You
Many of the events that we hold are formal, important gatherings: bar and bat mitzvahs, bridal showers, graduation parties and more. However, several others are casual. Just as important in the long run, perhaps, just as much fun – but also with a more easygoing vibe. When you contact us about your event, we can figure out exactly how to make our venue (or venues) right for your particular event. From the outfits our staff wears to the menu and more, we make sure that when you're here for your event, our banquet halls are your banquet halls. We'll even take care of all of the clean-up afterward, so that you can simply enjoy yourself. Take the first step towards an event you'll never forget by calling us at (323) 661-7501.