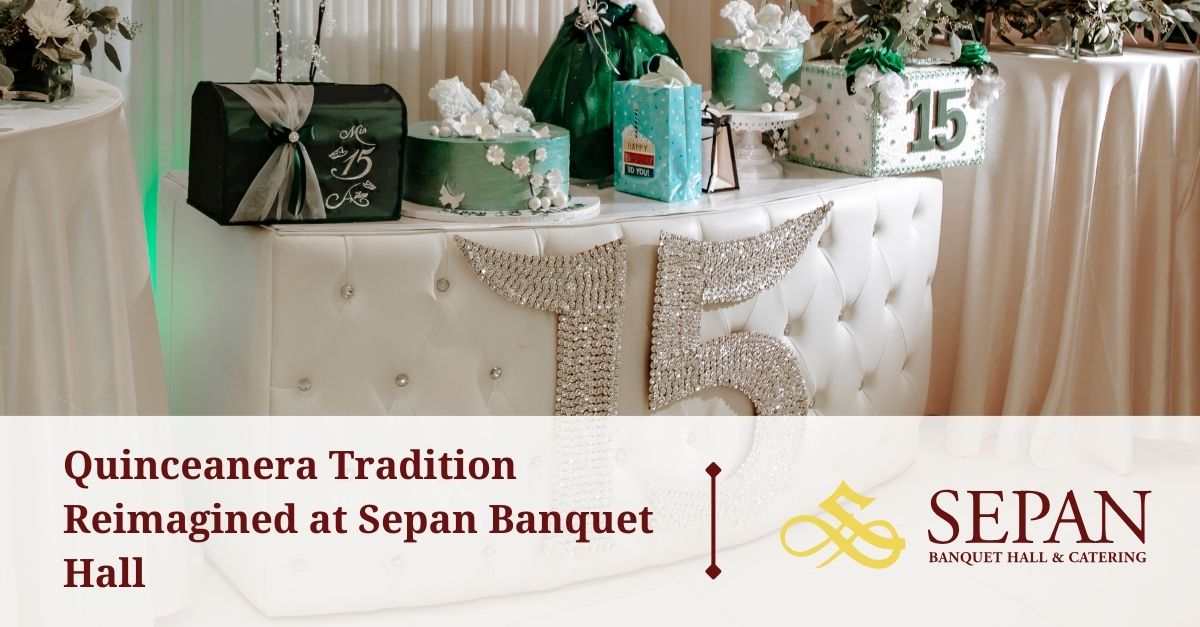 A Quinceanera is a rite of passage, a cherished tradition that marks the transition of a young girl into womanhood. Celebrated with pomp, splendor, and a deep respect for cultural roots, this special occasion is much more than just a party. It's a celebration of heritage, family, and the journey ahead. Sepan Banquet Hall has had the honor of hosting numerous Quinceaneras, each unique yet tied together by the thread of tradition. In this blog, we delve into the heart of Quinceanera Traditions and how they come alive at Sepan Banquet Hall.
A Look Into Quinceanera Traditions
The rich tapestry of Quinceanera traditions is woven with threads of History, spirituality, and communal bonding. One of the most pivotal moments is this traditional ceremony, a solemn event that grounds the celebration in gratitude and faith. The Mass includes special blessings and the presentation of gifts, symbolizing the Quinceanera's journey and responsibilities.
The waltz, a dance between the birthday girl and her father, is a touching moment, embodying her transition and the unwavering support of her family. The tiara ceremony, where she receives a crown, signifies her new status and place in society as well as new responsibilities. At Sepan Banquet Hall, we understand and honor these traditions, ensuring they are preserved and celebrated with the utmost care.
The tradition of the "Last Doll" is another moving moment, symbolizing the Quinceanera's transition from childhood to adulthood. In this custom, the birthday girl is presented with a doll, often dressed similarly to her, which is meant to be the last doll she receives as a child. This moment is filled with emotion and nostalgia, as it marks the end of one chapter and the beginning of another.
At Sepan Banquet Hall, we've witnessed the profound impact of this tradition on families and guests alike, ensuring that these moments are captured and cherished. Our venue provides the perfect backdrop for these sentimental exchanges, ensuring they are as special and memorable as possible.
Our Quinceanera Venue – Setting the Stage for Tradition
Choosing the right venue is crucial for any Quinceanera, it sets the stage for the day's events and creates the atmosphere for celebration. Families and guests look for a space that is not only beautiful and elegant but also adaptable to the various customs and requests of the day. Sepan Banquet Hall & Catering stands out as a premier venue in LA, offering a perfect blend of elegance, tradition, and modern amenities. Our spacious hall can be transformed to reflect the Quinceanera's theme and colors, while our state-of-the-art sound and lighting systems ensure the celebration is nothing short of spectacular.
How Quinceanera Traditions Are Kept Alive at Sepan Banquet Hall
Here at Sepan Banquet Hall, we value and honor the Quinceaera tradition, thus we pay close attention to every last detail.Our experienced staff works closely with families to understand their specific needs and expectations, ensuring that each Quinceanera celebrated with us is a heartfelt homage to tradition. From the religious aspects to the festive dance and banquet, we ensure that every element of the celebration is executed flawlessly. This is why families who have celebrated their daughters' Quinceaneras at Sepan often share heartwarming stories of our staff's dedication and the unforgettable memories created within our walls.
Adding a Modern Twist
While we hold Quinceañera traditions in high regard, we also understand the desire for a contemporary touch. Sepan Banquet Hall offers the perfect canvas for blending the old with the new, allowing families to infuse, add and mix personal and modern elements into the celebration. From innovative catering options to contemporary decor choices, we provide the flexibility to personalize the event while maintaining a deep respect for tradition. Our past Quinceaneras have showcased this beautiful balance, as families celebrate in a way that honors their roots while also reflecting the Quinceanera's individuality, personality and the times we live in.
Adding A Contemporary Touch With the Latest Tech
Many families choose to create photo slideshows or video montages that chronicle the Quinceanera's journey from childhood to adolescence, which can be displayed on our state-of-the-art audio-visual equipment.
Our tech not only adds a personal touch to the event but also gives visitors insight into the life of the celebrant.. Our team of experts at Sepan Banquet Hall will make sure that these technological integrations are seamless, enhancing the celebration rather than detracting from the traditional elements. Our team is adept at blending the old with the new, creating a harmonious balance that celebrates the Quinceanera in all her facets.
Creating Unforgettable Experiences
The celebration of a Quinceanera is a profound and joyous occasion, steeped in tradition and filled with love. At Sepan Banquet Hall, we are honored to play a part in bringing these celebrations to life, providing a space where traditions are treasured and new memories are made. Our commitment to upholding Quinceanera traditions, while also embracing modernity, ensures that every celebration at Sepan is a unique and unforgettable experience. We invite you to celebrate with us, to create lasting memories and honor the beautiful journey of transition and growth. Get in touch with us today to learn more about how Sepan Banquet Hall is more than just a venue; learn how it is a place where traditions thrive, families bond, and young girls step gracefully into the next chapter of their lives.