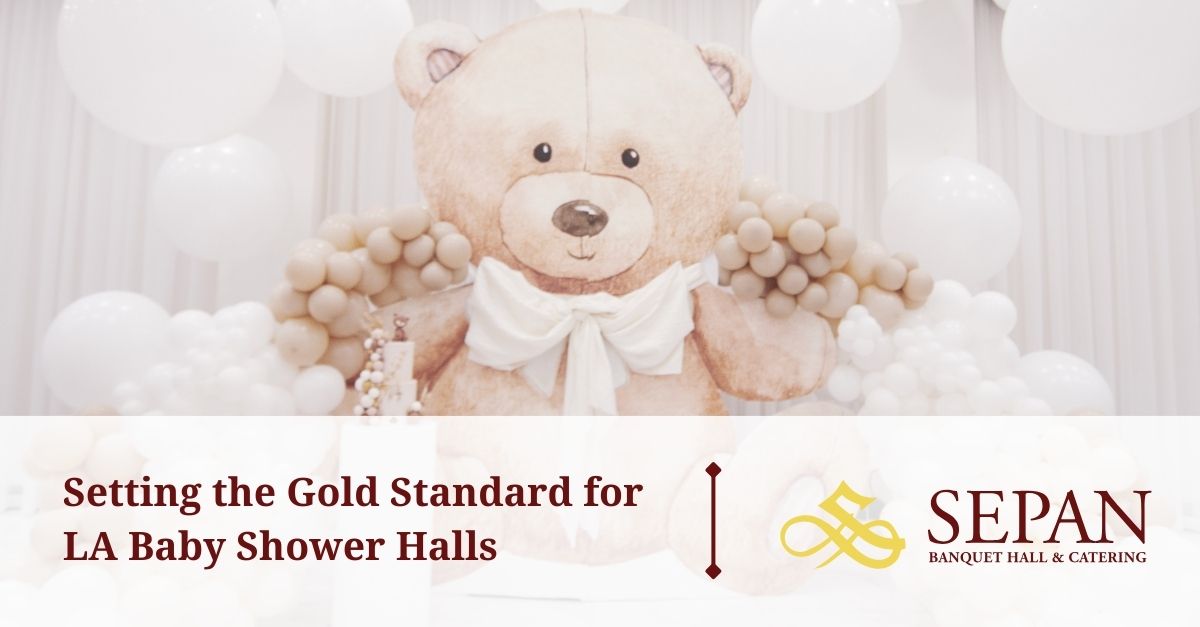 Los Angeles, which is known worldwide for its glitz, glamour, and events with famous people, is a great place to celebrate all kinds of events. The City of Angels is no different when it comes to baby showers. They are times filled with joy, energy, and eagerness. In the world of Baby Shower Halls, there are venues, and then there are extraordinary experiences.  As we learn more about the culture of baby showers in LA, it's clear that the right location can make all the difference and today we'll talk about some of the more important things to keep into account for your upcoming baby shower.
Decoding LA's Baby Shower Trends, Themes and Decor
Every year, baby showers in LA follow a different style. There are a lot of different options, from floral themes with lush green backgrounds to Boho Chic with Macrame Hangings. Showers with vintage decorations, soft colors, and lace details have also made a comeback. Since you live in a city that is always ahead of the curve, these themes will make sure that your baby shower is both stylish and memorable. The key is to make sure that the theme and the setting go together well. Among the elite baby shower halls, Sepan Banquet Hall stands out for its ability to adapt and enhance these trends, making them personal to every celebrant.
Putting Together The Menu And Dietary Needs
Food isn't just a way to stay alive; it's also an experience. In LA, with its mix of many different countries and cultures, the food scene is very diverse and rich. This diversity reflects in the baby shower menus too.  People love fusion foods, which take the best parts of different kinds of food and mix them together. Think about tiny taco pizzas or chicken sliders with Teriyaki sauce. When making the menu, we believe that it's important to take into account people's food preferences and restrictions. Vegan, gluten-free, or keto, it doesn't matter, our team will make sure that everyone can enjoy something tasty, therefore making the party even more welcoming. At Sepan, our food services are known for being flexible and high-quality, making sure that everyone can enjoy a gourmet meal.
Choosing The Right Games And Activities For A Crowd In Los Angeles.
Even though standard baby shower games like "guess the baby food" and "diaper raffle" have been around for a long time and are considered Blassics, sometimes the LA crowd often wants something a little different. Personalized trivia about the parents-to-be, baby karaoke, and even craft stations where guests can make keepsakes for the baby are becoming more common. The goal? Making memories that will last, not just for the parents but for all of the guests as well. Sepan Banquet Hall, a gem among baby shower halls, boasts the perfect setting to host these activities, ensuring that your guests are entertained from start to finish.
Why Sepan is Unbeatable
When looking for a place to hold a baby shower, Sepan Banquet Hall & Catering is always at the top of the list. Not only does Sepan have a great location, which is a plus, but we also have a great mix of class, elegance, and flexibility. The halls and venues have a perfect mix of classic and new, making them a blank slate ready to be filled with your own baby shower ideas. And it's not just how it looks. The acoustics, the ambiance lighting, the sheer versatility of space – everything is designed keeping your grand celebration in mind.
A Little More About Us
Sepan Banquet Hall & Catering is a beacon for events that will be memorable for all its guests. Located in LA, our venue isn't just another addition to the list of baby shower halls; it's a whole different experience. . No matter if you want a big party or a small get-together, our rooms can be transformed to fit your dreams. The most important thing about our halls is not how nice it looks, but the people who work there. Every event hosted here is a symphony, and our friendly staff ensures it plays out without a hitch. We know that every party is different, and we're here to make sure that yours stands out.
Upgrading Your LA Baby Shower with Sepan Banquet Hall & Catering
In conclusion, there are a lot of baby shower halls to choose from in Los Angeles, but Sepan Banquet Hall & Catering is one of a kind. It's not just about putting on an event; it's about making experiences, stories, and moments that people will remember for the rest of their lives. If you want to take your baby shower to the next level, contacting us would be the first step toward making that dream come true. After all, every baby deserves a welcome as grand as the place they are born in.