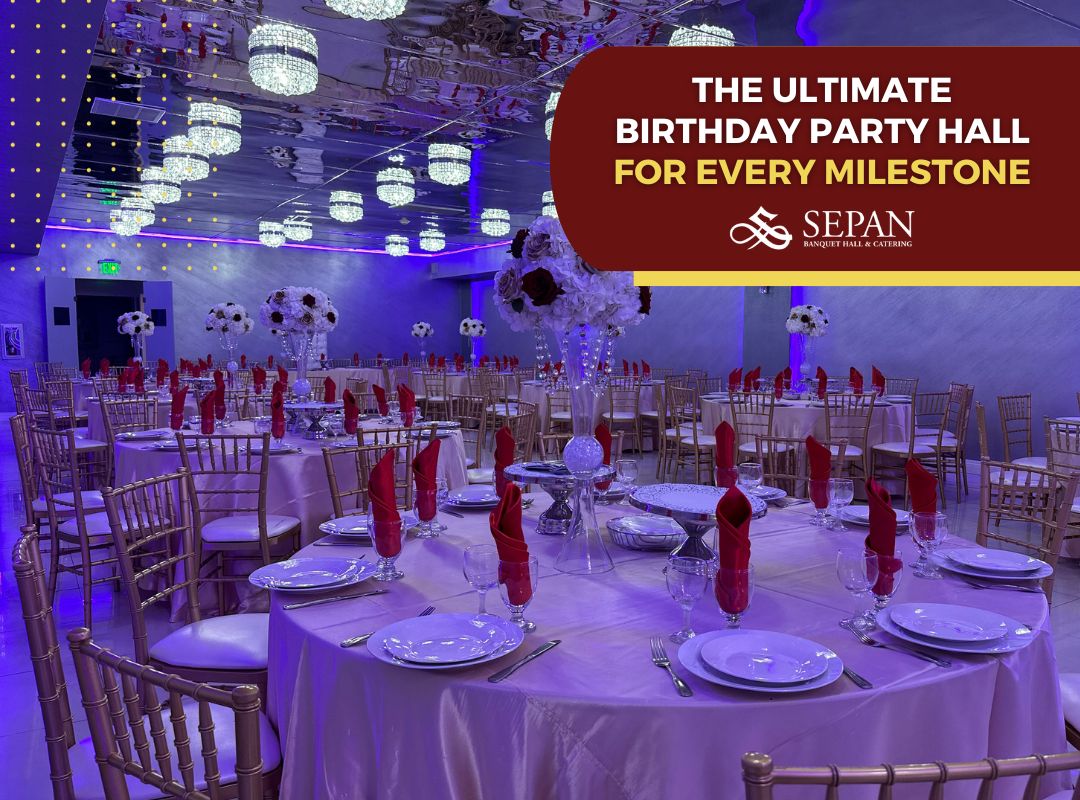 In the huge city of Los Angeles, where every moment feels like it belongs in a movie, personal events need a big stage to match. Every event, every birthday and baby shower is a chance to think about the past and create some new, lasting memories. And the setting is where all of these parties come together. Sepan Banquet Hall, which is known as the best Birthday Party Hall, has been at the center of these special events, making stories that will last a lifetime. From first steps to fifteen candles, today we'll talk about how Sepan Banquet Hall is your all-in-one birthday party hall.
A Child's First Laugh
There's something magical about a baby's first year, from the first giggles to the first shaky steps and the joy they bring. This first appearance in the world deserves a big party that matches the importance of the event. Baby showers at Sepan aren't just events; they're carefully crafted experiences.
Imagine the hall filled with the soft glow of a thousand twinkling lights and the soft hum of songs coming from every corner. Tables decorated with soft pastels that make you think of the colors of your childhood. But more than just looking good, Sepan is proud of the mood it creates. A sense of warmth, of families coming together, and of love being passed down from one generation to the next. In these ways, Sepan proves that it is the best place to have a birthday party.
Each Year Counts
Children grow up so fast that it often makes parents feel breathless and nostalgic. For many, each year brings with it a new side of their personality, a new achievement to be proud of, a new dream to chase, and the promise of a brighter future. And each of these milestones deserves its unique and fun celebration.
Sepan can turn into a wonderland of their favorite characters for a lively baby who has just learned how much fun it is to run around. For preteens who are still figuring out friendships, hobbies, and school, the birthday party hall can have a more grown-up but still fun vibe, with fun booths, interactive games, and gourmet treats that suit their changing tastes.
What We Do
Sepan Banquet Hall & Catering stands out as a place to celebrate in the middle of Los Angeles. Our hall has been the proud host of many happy and unforgettable moments for more than 15 years. The interiors and deco, a mix of contemporary and classic luxury, set the mood. But what makes each event special is the "soul" of Sepan, which is made up of our unbeatable service and the culinary adventures we plan, from Mediterranean treats to spicy Mexican feasts. We believe in sustainable celebrations, ensuring that our practices are eco-friendly. Sepan is more than just a location or a hall; it is a promise. A promise of perfection and of times that will be remembered for years to come.
The Magic of Quinceañeras
For many people, turning 15 is a big deal, a landmark that separates their child years and the rest. A way to get from the happy world of childhood to the world of adulthood. Quinceaneras are full of cultural meaning and traditions, and families wait with eagerness and excitement for them. While the warmth and character of Sepan are undeniably charming, it is the venue's unique amenities that truly set it apart from any other LA quinceanera hall.
Our halls are filled with music from both the past and the present. The decor is a nod to history, but it also has a modern feel to it. Customized meals make sure that the food is both a tribute to the past and a taste of the present. Each Quinceanera is a colorful mix of old-world charm and modern fashion.
A Promise of Joy and Laughter
If you think about it, memories are the threads that hold our lives together. In the big picture of life, birthdays stand out as bright, bold patterns. At the Sepan Banquet Hall in Glendale, we know how important these events are. We don't just put on events; we take care of memories that families will talk about for years to come. Our expertise lies in turning simple events into grand narratives. No matter if it's a first birthday or a big Quinceanera, our birthday party hall is ready to be filled with laughter, joy, and many memories. When it's more than just a party and you want to mark the passing of time with grace, beauty, and style, Sepan Banquet Hall is still the best option. So, when you start looking for a great place for a birthday party, know that with Sepan, the trip is just as memorable as the end result. Join us in celebrating every age and every milestone, and let's make stories that will last forever.