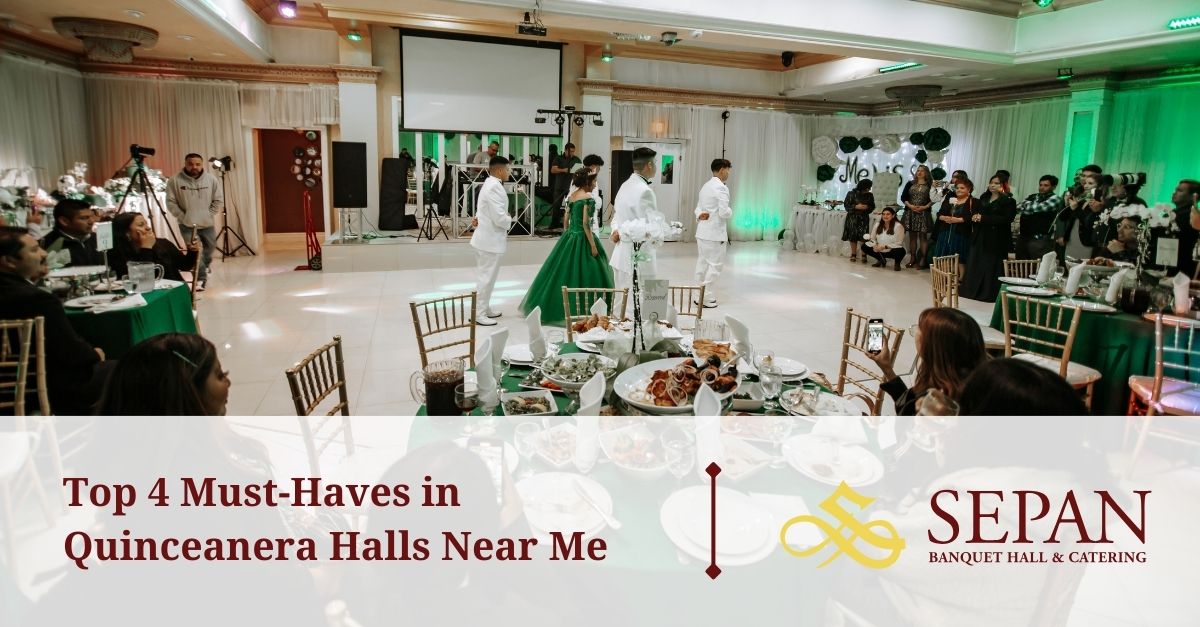 So, we've got a big topic on our hands today – finding the perfect spot for a Quinceanera. We understand that it is a once-in-a-lifetime event, so everything's gotta be just right. If you've been tirelessly searching "Quinceanera Halls Near Me", wondering where the best spot is to celebrate, well, you're in good luck, Sepan Banquet Hall is where it's at! Let's dive in and chat about why this place is a game-changer.
For starters, it's not just about finding a place that's available; it's about finding a venue that encapsulates the Dreams and Expectations for the future in a once-in-a-lifetime celebration. Sepan Banquet Hall stands out as the premium choice, offering everything needed to make a quinceanera unforgettable. Today, we'll talk about some of the must-haves for an unforgettable quinceanera party!
Spacious and Flexible Layout for Dreams to Unfold
First things first, we gotta talk about space. A quinceanera is no small affair, and you're gonna need room – lots of it! You've got family, friends, and probably a few plus-ones, and everyone needs their space to dance, eat, and celebrate. At Sepan Banquet Hall, space is the least of your worries. It's like walking into a grand ballroom designed just for you. Plus, it's incredibly versatile. Whether your theme is "Under the Stars" or "Enchanted Garden," this place transforms to fit your vision. Searching "quinceanera halls near me" can feel like a treasure hunt, but consider Sepan Banquet Hall the ultimate treasure chest of space and flexibility.
Elegance and Ambiance Like No Other
Now, let's switch gears and talk about the vibe. The décor and ambiance of a venue can make or break your quinceanera. You want something elegant, something that makes your guests' jaws drop as soon as they walk in. Well, Sepan Banquet Hall is like stepping into a world of elegance. It's chic, it's sophisticated, and it's ready to be decked out in whatever theme you've dreamt up. You get to add your personal flair, turning this already stunning venue into a space that screams "you." So, when "quinceanera halls near me" is on your mind, think elegance, think ambiance, think Sepan Banquet Hall.
Services and Amenities for a Flawless Night
Moving on to the practical stuff. A memorable quinceanera is all about the details. We believe that a successful celebration is made up of many elements, all working together seamlessly like a clock would. At Sepan Banquet Hall, we've got the amenities and services to make sure every single detail is perfect. From delectable catering options to a sound system that'll keep the dance floor full, we've thought of it all. The staff? They're rockstars, ready to make sure your night goes off without a hitch.
From sophisticated lighting and state-of-the-art technology to luxurious table settings, every detail is attended to, making sure that the venue is nothing short of perfect. So, while searching for "quinceanera halls near me", remember, it's not just about the space; it's about the whole package. And Sepan Banquet Hall? We deliver.
Location, Location, Location!
The location of the quinceanera hall is another critical factor to consider. You want a spot that's easy for everyone to get to, right? Sepan Banquet Hall is centrally located, meaning your guests and family won't have to travel an extremely long distance to celebrate with you. It's all about convenience, and with plenty of parking space, Sepan Banquet Hall checks all the boxes. So, when "quinceanera halls near me" is your search for the day, remember location matters and Sepan Banquet Hall is in the perfect spot.
The Sepan Experience, Unmatched and Unforgettable
Now, let's bring it all home. Searching for "quinceanera halls near me" can feel overwhelming, but Sepan Banquet Hall is here to put your mind at ease. With ample space, stunning elegance, top-notch services, and a prime location, it truly is the complete package. The team at Sepan Banquet Hall is dedicated to making your quinceanera as special as you've always imagined. We get it; this is a big moment, and we're all about bringing your vision to life.
From the planning stages to the final dance, we're with you every step of the way, ensuring that every detail is just right. So, as you navigate through the world of quinceanera planning, keep Sepan Banquet Hall at the top of your list. It's more than just a venue; it's a place where memories are made, where celebrations are had, and where dreams come true. Come see for yourself why it's the go-to spot for quinceaneras in Los Angeles. Should you have any questions on how we can make the most out of the quinceanera celebration please do not hesitate to give us a call or visit our website. Your perfect celebration awaits!