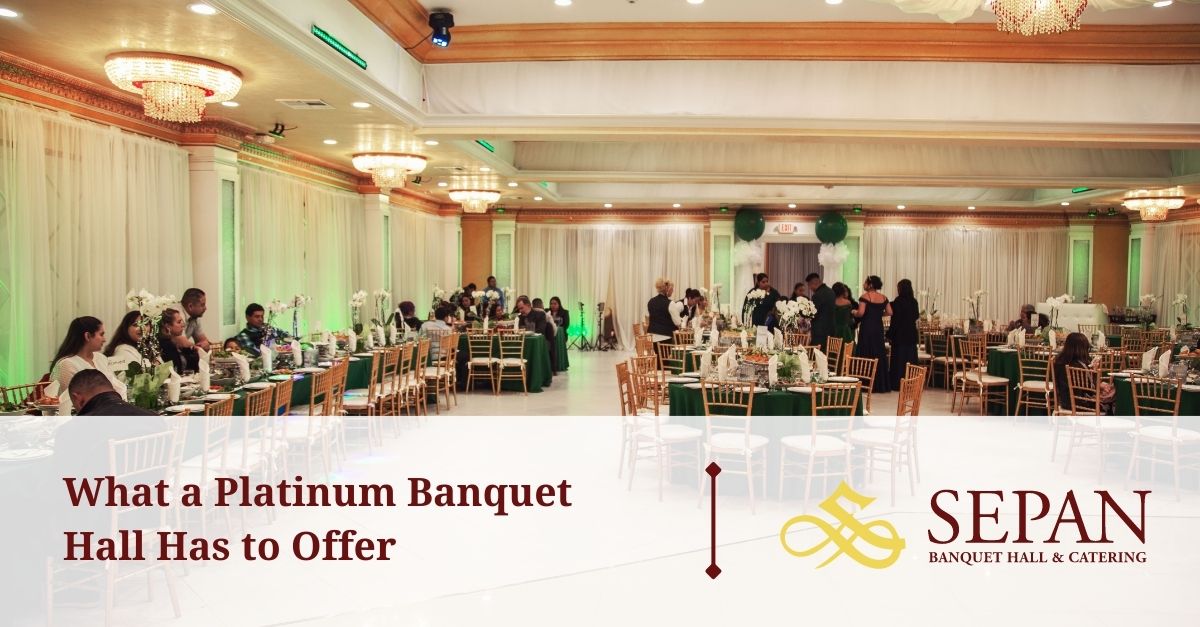 Think back to the time when dining halls were just rooms where you could accommodate your guests. We live in a time when the concept of a Platinum banquet hall is more than just a big space with the basics. Today, we're going to talk about luxury, comfort, and perfect moments that you'll remember for a long time. As society changes and people's standards rise, it's interesting to see how places go from being boring to being places that define opulence. Let's start this exciting journey of learning.
Architectural Excellence
First impressions are hard to forget. As soon as a guest walks into a Platinum banquet hall, he or she is expected to be amazed. The mood for the evening is set by the high, wide ceilings, elaborate designs on the walls, expensive decorations, and strategic lighting.
The focus is not just on beauty. Functionality is very important. Acoustics that work well make sure that everything can be heard clearly, whether it's a moving speech or a powerful song. When the natural light comes in during the day and the lights are on at night, they work together to make the right setting for any event. These parts of the design aren't there by accident; they were carefully chosen to show what "platinum" means.
Gastronomic Delights
Traveling around the world and using the Internet have made our taste buds have certainly expanded. People no longer enjoy the usual food at events. A Platinum banquet hall like Sepan comes in at this point. Offering a large menu with dishes from all over the world is just the beginning.
We have a commitment in which every dish served is a work of art that is made with love and care. Ingredients are carefully picked, cooks are hired based on how good they are, and appearance is very important. No matter if you like the tastes of the Mediterranean, the wealth of traditional Mexican food, or a daring mix of the two, these places will make sure that every bite is memorable. Also, it is important to remember that all types of events can be made to fit your needs. We understand that in today's age, it's vital to adapt to dietary needs, allergies, and personal preferences.
Tech Integration
While traditions form the cornerstone of most celebrations, modernity has an iconic role to play, especially in a platinum banquet hall setting. Each and every one of our venues is equipped with the tech needed to handle any request. Looking for the latest in LED light systems? Done. Want to share your event live with people all over the world? Think of it as done.
Top-quality audio-visual systems make sure there are no technology problems. At the touch of a button, mood lighting can change from soft, loving glow to lively dance beats. Even behind the scenes, technology plays a role, whether it's controlling the temperature to make sure the place is comfortable or using high-tech cooking tools to make sure food is served quickly and well.
A Customer Service That Can't Be Beat
All of these previous things we've mentioned are important, but service is what keeps a platinum dining hall alive. The staff that work in our venues are well-trained not only in their jobs but also in the art of making people feel welcome. Every need, whether said or not, is met.
At places like Sepan, it's usual for staff to go out of their way to help. They're not just there to do a job; they're there to make the experience better. Platinum sites such as ours stand out because they take care of problems before they happen and add personal touches. Remember that in the world of platinum, service isn't reactive—it's proactive and thoughtful.
Whether your event is small or large, casual or formal, our welcoming staff will work with you to ensure that it is everything you imagined and more, leaving you and your visitors with an unforgettable experience!
Creating Lasting Memories
In the end, it's clear that "platinum" is more than just a word. It's a standard, an experience, and a promise. As the number of these high-end places grows, it's important to remember the careful planning and work that goes into every event. Sepan Banquet Hall & Catering is a beautiful example of a platinum banquet hall because of its dedication to being the best. We get it, it isn't just about having an event; it's about making stories, memories, and experiences that will last a lifetime. So, the next time you want to plan something big, think outside the box. Contact us to talk with one of our staff about our exceptional catering services, for a price quotation, or book an appointment to view our lovely space and understand why we are the venue of choice for classy gatherings, celebrations, receptions, and parties. We look forward to hearing from you! When you think of platinum, think of Sepan.