Quinceanera venues are banquet halls to celebrate your daughter's transformation to womanhood. If you are planning one, then make sure that you don't hold it in a backyard or a garage. 
A backyard barbecue is never adequate for such a grand celebration. Instead, you must rent a banquet hall that offers plenty of space for guests to dance, eat, and celebrate.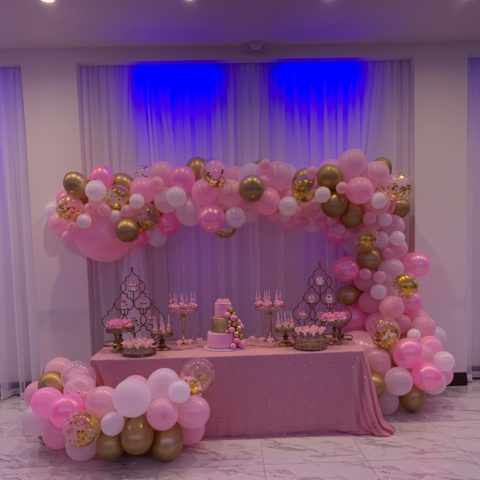 Sepan Banquet Hall as
Quinceanera Venues 
If you want an unforgettable quinceanera, you should choose the best venues in town. Booking our venue will make the occasion truly enjoyable. 
We guarantee a high-quality venue with the right furniture and equipment. Our staff is highly trained to ensure that no problem arises as you and your guests celebrate. 
However, no matter how great our venue is, it will still be a dull event if you don't choose the right theme. You must have a perfect theme that combines fun, grace, and style. Keep in mind that how you decorate the venue will depend on the party theme. 
Cinderella 
It is a common but still great theme for this occasion. If this is what you want, you can choose a light blue and white color palette. Then, the venue should be decorated with pearls and white flowers. 
You, on the other hand, should dress the part. The white dress you wear during the religious ceremony can also be used as the party dress. 
When you are at the party, you will get a tiara and your father will replace your shoes with an adult version. But, this must only be done after the dance with your dad. 
Inviting Family and Friends 
There must be 15 friends who will stand at your side during the ceremony. After that, your family and friends can join the party. They will have fun and celebrate your special day. 
Dance All Night 
Music is always a part of this occasion. To encourage your family and friends to dance, you should hire a DJ. Make sure that he's well-experienced in providing music to such an event. 
That's why you can't just use your backyard to celebrate this event of your life. You need a huge venue, like Sepan Banquet Hall, to entertain your guests. 
Our inspiring venue will fit your budget and theme. The best part of choosing our venue is that you can enjoy amenities that will make sure that you will have everything to hold a successful event. 
Transportation 
After booking our venue, you must decide what kind of transportation you can use to fit your theme. If you are going for a fairy tale, you should consider a horse-and-carriage transport. However, if the theme is the 1950s, consider a vintage car rental. 
What if you don't have the budget to rent a limo? Don't fret as you can still arrive by scooter or a motorcycle. It is still stylish yet affordable. 
Is your quinceanera coming up? Don't forget to call one of our quinceanera venues for a memorable event in your life. Book our space today by calling (323) 894-9446.