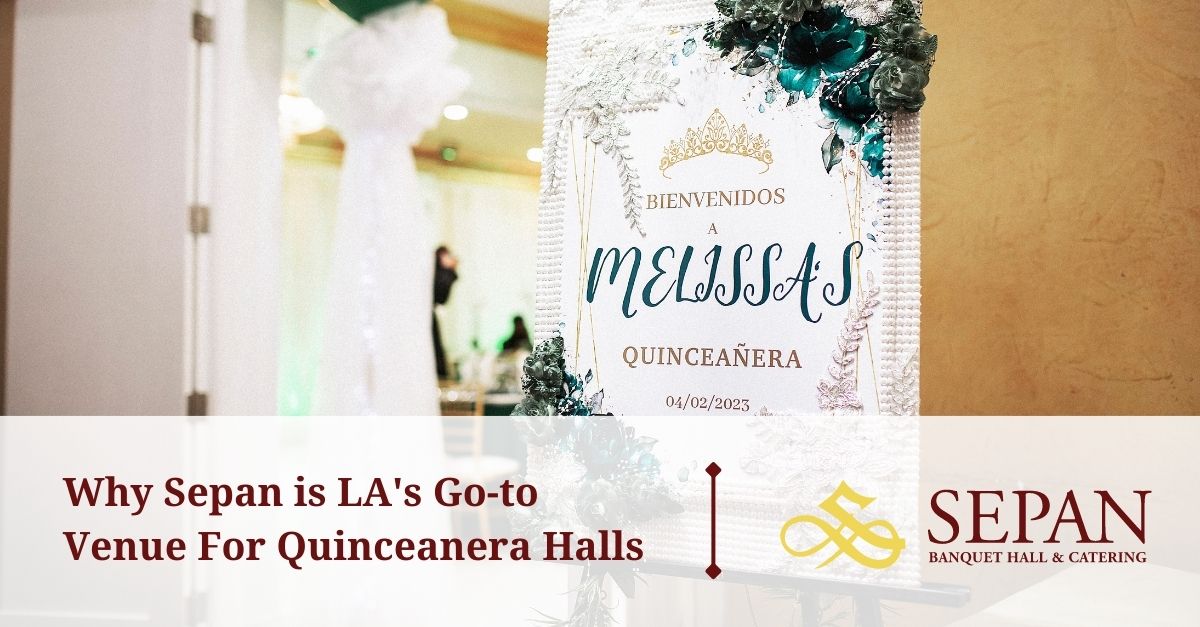 When you were younger, do you remember how you used to watch all those beautiful Quinceaneras and think, "One day, that'll be me"? Now, looking for the best "quinceanera halls near me" is on your list of things to do every day. In LA, where there are so many choices, it can be hard to pick the right place. But don't worry, because we're going to make that job a lot easier. A Quinceanera is more than just a party; it's a rite of passage with lots of traditions, feelings, and opportunities to make memories.
In the middle of Los Angeles, there is a place that not only hosts events but also makes memories. Today we'll take a dive into Sepan Banquet Hall & Catering, where parties are more than just dancing. 
Sepan's Commitment to Creating Unforgettable Memories
Have you ever Googled "quinceanera halls near me" and been overwhelmed by how many choices there were? Well, Sepan is not just another name on that list. We help people remember what is important. With us, it's never just about the event itself. What makes a Quinceanera special are the laughs, tears, hugs, and dances. We don't just give you a place or space; we work with you to make sure every moment celebrates the joy of becoming a woman.
What's our promise? To be with you every step of the way and make sure your Quinceanera is as special and unique as you are. After all, it's the little things that makeup memories, and we're here to make sure that each one is perfect. We can take care of every detail, from the menu to the security to the napkin color. We can certainly improve your event space in any manner you can imagine. 
Going Above and Beyond Expectations
What makes Sepan Banquet Hall & Catering different from all the other "quinceanera halls near me"? Well, it's in the things that are different. Let's start with the big one, which is our eco-friendly approach. That's right, you read it right! We make sure that your events don't leave a carbon footprint in a world that wants to be more sustainable.
Then there's our wide range of food, which has something for everyone. From spicy Mexican food to mouthwatering meals from the Mediterranean, our chefs cook up a storm to make sure that every taste is satisfied. Feel free to browse some of our menu options on our website and ask for the package that best fits your specific event. 
Let's not forget to mention a bit about the halls themselves. Sepan Banquet Hall & Catering is flexible enough to meet all of your needs, whether you're planning a small party or a big one. Our halls aren't just about the room; they're also about atmosphere, comfort, and making memories. The large hall at Sepan can accommodate up to 300 guests, and the smaller halls, 150 guests. All venues have their own private entrances and are exquisitely crafted with high ceilings, stages, and elegant illumination, among other amenities.
Our Best Location Is Where Convenience Meets Platinum Quality.
In addition to our beautiful rooms, our excellent setting and location within the city is a big part of what makes us so special. When you're looking for "quinceanera halls near me" in a hurry, location is the most important thing. We're right in the middle of LA, so you can get to us from anywhere in the city. This is convenient not only for you but also for everyone who is coming to your event.
Sepan's prime location makes it the best choice for any event, from quinceaneras to bar/bat mitzvahs, and birthdays to wedding showers. Our hardworking and helpful staff makes sure that everything is set up. No matter if you want a relaxed party or a formal event, our team works hard to make sure that your dreams come true. We don't just want to meet your standards; we want to go above and beyond them. We want you and your guests to be blown away by what we do.
At Sepan Banquet Hall & Catering, We Make Stories, Not Just Events.
When the music stops, the lights go out, and everyone leaves, all that's left are memories and stories that will be shared for years to come. At Sepan Banquet Hall & Catering, we don't just host Quinceaneras; we also write stories that are as unique and special as the girl who is turning 15.
So, the next time you type "quinceanera halls near me" into your search bar, think of Sepan. When you work with us, you get more than just a place to meet. You get a partner, a narrator, and a friend.
Send us a message on our website or give us a call if you'd like to discuss how we can make your event really unforgettable. Here's to memories, special times, and Quinceaneras!